Busyman Bicycles - Bespoke Handmade Leatherwork
We've been lucky enough to spend some time chatting with Mick Peel. He's the man behind Busyman Bicycles and is an absolute Master when it comes to leatherwork. Recently, after 21 years at Melbourne's RMIT University as a lecturer in fashion design, Mick has taken the plunge taking Busyman Bicycles full-time.
Busyman produces bespoke handmade leather saddles and bar tape. Mick is clearly passionate about his work. He is not just creating a product, but pieces of art. Each saddle has a level of detail that has to be seen to be believed. The bar tape is also fantastic; perfectly cut and finished, meaning your bike will look very special with a Busyman saddle and tape combination finishing it off.
Mick and his wife kindly invited us into their studio. It's an amazing environment, filled with natural light, rolls of leather rest on shelves, saddles peak out of drawers and a collection of tools, pencils, paints and brushes all seem perfectly positioned in various places around the room. Within a minute of meeting Mick I am feeling relaxed, he's a very easygoing guy with a super welcoming and genuine nature.
Busyman all started back in 2008 when Mick decided to start a PhD looking at the critical lack of design in the Australian design industry. He soon realised that this topic was not the way to go and that, in order to keep him interested in his topic, he would need to focus his research and study on something different. It just so happens that, at the same time, Mick was riding into work daily and gradually becoming more obsessed with the fixies he was seeing around Melbourne.
Not surprisingly perhaps, Fixie was soon purchased from eBay and a rebuild began to progress. The first accessory to adorn Mick's eBay find was a Brooks saddle.
Seemingly that first eBay fixie rebuild gave Mick a taste of something he quite enjoyed as it was followed by rebuilds of bikes for his wife, his brother and his sister. Then came the saddle. Mick shows me his first attempt at a saddle recover. He looks embarrassed, and to be honest it's a pretty ugly thing!
This is when it all happened. Mick decided to change his PhD into designing through 'making' rather than designing by 'drawing' and telling someone else to make it. The core focus of Mick's PhD project would be "Busyman Bicycles".
With no plans to make Busyman Bicycles into a business, Mick continued to work on saddles and presenting them for display at exhibitions. It was at these events that people began to take notice and realise that Mick was producing something really special.
Fast forward to today and Busyman has progressed from being a project to becoming a hobby, onto a part-time job to a full-time business.
It's clear when you look at Mick's work that a lot of time and energy goes into making a custom cover for a saddle. Each one is very special and completely unique. Mick has certainly found an area of fashion that he has put a put his heart and soul into. Mick tells me that has recently travelled over to Europe and found some great inspiration in some of the Italian and Turkish museums, especially the Gucci museum in Florence.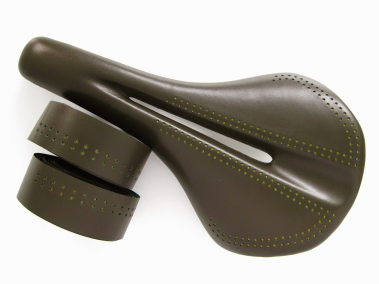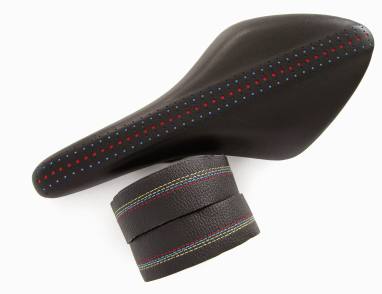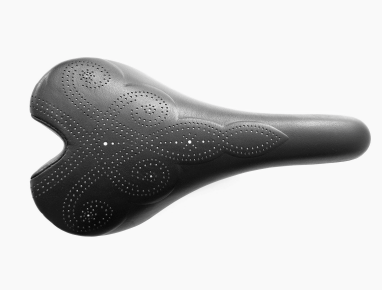 Kanagroo leather is Mick's material of choice for saddles as it is hard wearing and is considered the best for the job. He has, however, completed requests to work with some different materials, including old basketball leather and ostrich leather...
Mick's bar tape is made from cow-hide. Mick explained to me that you need a long piece of leather for each side of a road bike handlebar. Mick's leather bar tape is tough and I'd bet that it will outlast almost any synthetic tape.
Of course, for Mick, it's not just all about saddles and tape. Mick also loves to ride and has collected a somewhat eclectic collection of bikes. In fact there is an entire room in the house dedicated to bikes. We'll be profiling Mick's bikes and riding habbits in our weekly rider article in the coming weeks - stay tuned!
If you want a Busyman Bicycles saddle you will need to add your name to the list! When we met with Mick his waiting list was out to May 2015 and growing steadily. When your name comes up the process is as follows:
Send your favourite saddle (new or old) to Mick.
Talk to Mick about what you want. It helps to provide a sketch if you have a specific idea... don't worry, you don't need to be an artist.
The saddle is then stripped and, if required, repaired.
A pattern is made for your design.
The kangaroo leather is cut and designed and attached to your saddle.
You pick up your new saddle and gaze at it in wonder!
Busyman Bicycles prices start at $210 for a very basic saddle shape and cover, to over $400 for something truly special. One thing is for sure, your bike will look amazing with a Busyman Bicycles saddle!
Mike Boudrie