Bodhi Black Eye Cycling Kit
Get Bodhi on your Body. So that's not Bodhi Cycling's slogan, but it should be, I'll even let them use it free.
For the World Everesting Project I was supplied with kit from Bodhi Cycling Australia, both in some custom colours, and some of their branded kit. I have been riding in it for months now, in all sorts of conditions, and can pretty comprehensively tell you what I think about it.
DAVE EDWARDS
Rad AF.
The classic style, the innovative cuts and fabrics, the smart design, every item of kit I have from Bodhi is first rate. I would recommend it without question in a heartbeat.
Bodhi's headquarters are in Belgium, and anything cycling-related from there is likely to be harder than a coffin nail. This kit is no exception. They offer a full range of knicks, jerseys, gilets and jackets, in a few different cuts. I went with the Black Eye version of their kit, which is the premium fabric, with the best chamois. The ordering process was pretty straight-forward. I gave a brief of what I wanted, they sent back 7 different designs, and we refined it from there. Delivery was a fairly standard 6 weeks later.
KNICKS
So I would probably say these are the best things that Bodhi make. They are the best knicks I have had attached to my legs. Firstly, they use an Elastic Interface branded chamois, which I have found to be about the best company to use for chamois'. This particular one is very dense, and has differing densities of foam in different parts of the pad. I have now ridden well over a thousand km's in these knicks, with 3 rides in particular being over 24 hours. No chamois cream, no chaffing, no numbness. Just a big bucket of rad. A TOP CHAMOIS.
Add to that, they use elastic for the bib section, so they are extremely comfortable, you forget you have a bib on. Also makes a sneaky nature break a really simple thing to master. The material through the crotch is flexible but durable, but it's the woven fabric on the outside of the thigh that really makes the knicks stand out. It is very firm, and does not stretch a lot. This makes the knicks sit very firm against the outer of your thighs. It's a bit weird at first, but that firmess becomes very comforting, and now I feel odd without it.
SS JERSEY
A great, firm fit, which I love, no looseness, or over-tightness anywhere. The sleeves are a little longer than usual, which seems to be the style these days. Interesting points are that they use great little hoods to hide the tips of the zips, so they never chafe or irritate. The pockets are plenty reachable, with 1 larger pocket, and two smaller pockets. Particularly cool is that they include a zippered, weather proof pocket, even on the ultra light summer kit.
Which leads me to my next point – ultra light fabric. This stuff is crazy light. I wore it on a big day riding through searing heat and humidity in the jungles of Bali, and it was awesome. Super lightweight, but very tough, with care paid to bar tack around the pockets, and quality seams throughout. I didn't get burnt through it either.
LS JERSEY
Theirs is one of the best insulated fabrics I have yet seen in cycling. It is warm and stretchy, so you can get a fit as good as the short sleeved jersey. The sleeves are long enough to reach to your gloves, with a wide elastic at the wrists. The zip is small, but solid also. Easily the best fabric I have used in a long sleeve jersey by far.
GILET/JACKET
If their basic kit was innovative, the gilet and jacket go next level. They use a wind and water proof fabric that is light, stretchable, durable and fully printable. It rules. Having a flappy gilet gives me the shits. Hate it. They can GGF. These ones sat nice and snug against my body, so good. The gilet has a sleek, but lasting zip, and a small, simple collar. You can purchase a stand-alone gilet, or you can go option two…
The jacket. The jacket is the business. They make it with zip off sleeves, so aside from your normal central zip (with big hoods to cover the sip tips like the jerseys), it has two zips either side of the chest, that allow the sleeves and back to be zipped off. What you are left with is the front, and a mesh back – a jacket and a gilet in one. The gilet even has a large zippered pocket to easily stash the sleeve section.
For some of the climbs I was doing, there was a huge temperature gradient between top and bottom, compounded by the heat of climbing, and the cool temps of descending. Having the ability to customise the one piece of kit whilst riding was awesome. Plus the build is of the same quality standard as the rest of the kit, I did find that he gilet part of the jacket was not quite as fitted as the stand alone gilet.
On top of the quality of the fabrics and cuts, the quality of the designs and prints is outstanding. Really bright colours, no running of the colours, even on the leg grippers, this kit is designed and made to be first rate.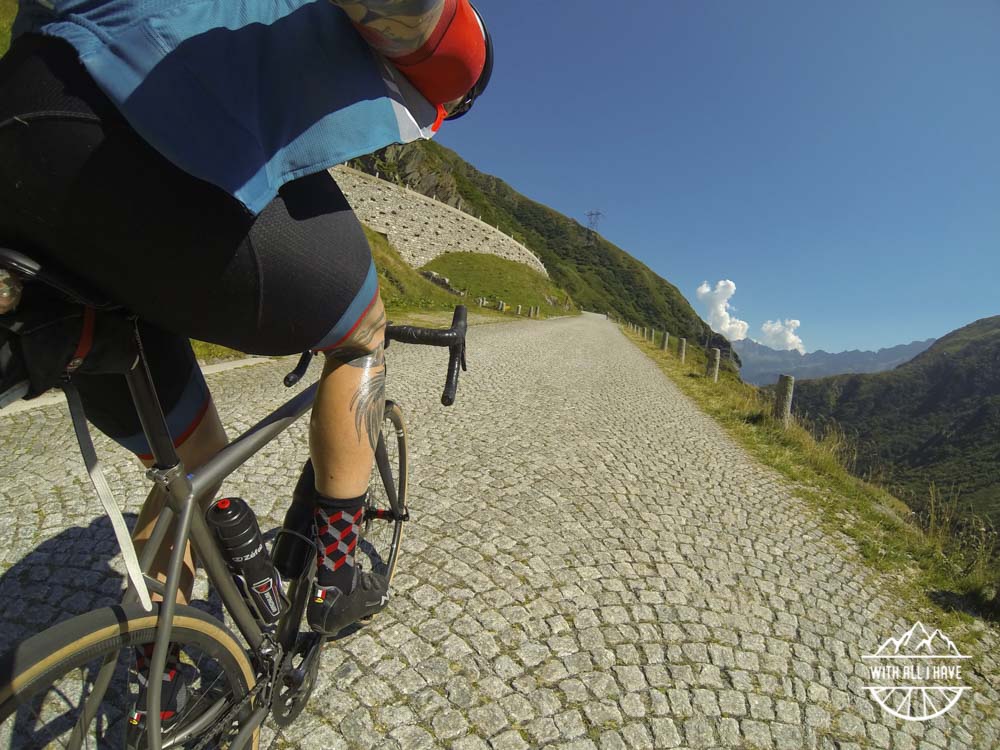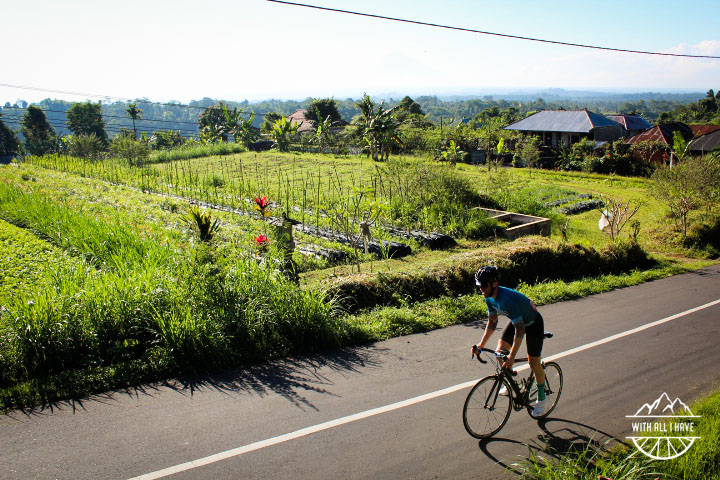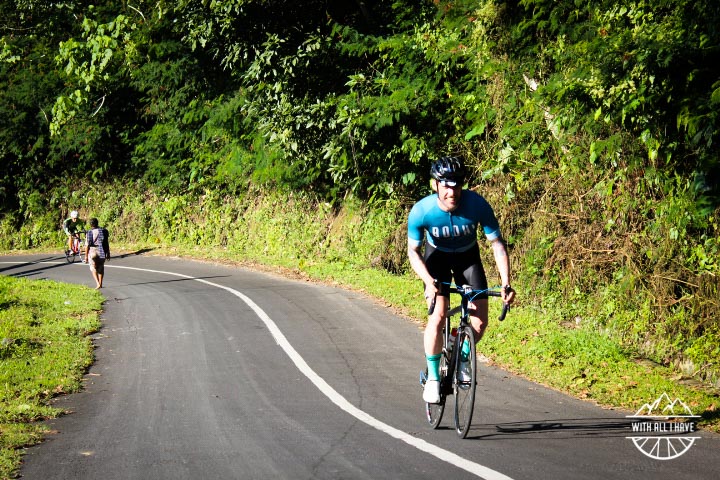 Dave Edwards